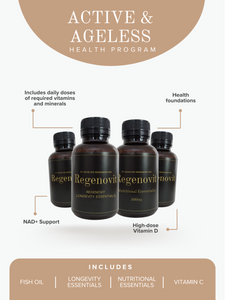 3 months supply Regenovit Flagship Product Nutritional Essentials
3 months supply unique formulation Longevity Essentials
3 months supply Fish Oil
3 months supply Vitamin C
Subscribe and receive a refill delivered to your door every 100 days;
Age is just a number! Rewind the clock and live a longer, healthier life. Jam-packed with vitamins and minerals essentials to aid body recovery and diminish cell-death. This unique formulation is designed to strength your bodies building-blocks and reduce toxin levels found in most of us.

Partner this program with the Genetic Health Testing Bundle for the optimal approach to enhancing your general health.
You will be charged your subscription renewal 3 months from purchase on the same card made to purchase.